A Guide to Interior Design Inspired by Nature
By Lilly Miller
While we might not often realize just how important it is to be surrounded by nature, the truth is that nature effortlessly allows us to relax, unwind, and promote optimal health and well-being. As our home is another space where we wish to foster calmness and peacefulness, it makes perfect sense that we might wish to bring some elements of nature indoors, and create a more organic living space. To that end, if you want to get inspired by nature as well, here are some simple yet efficient ways you could make your interiors look and feel more organic:
Stick to more organic colors
One of the easiest and most affordable ways to make your interior feel like an extension of nature is by carefully selecting the color palette of your space. For instance, earthy hues such as blue, green, brown, or even rusty shades can effortlessly evoke images of the outdoors and make you feel as if you are one with nature. However, these colors might work best when paired with neutrals like white, cream, and beige, in order to create the perfect balance between natural inspiration and a peaceful and calming interior. No matter which color scheme you opt for, just make sure to use VOC-free paint options that are kinder to the environment.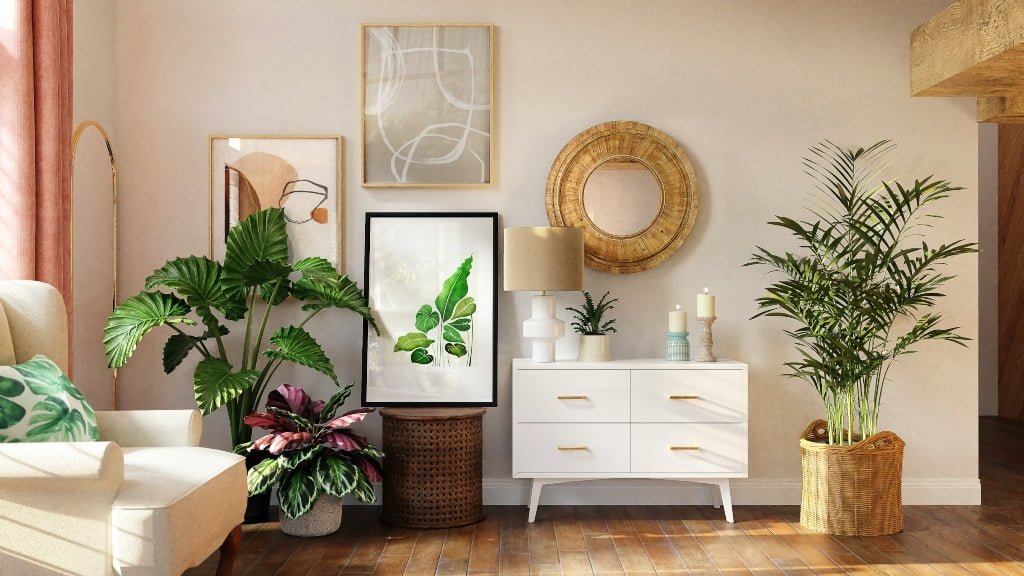 Opt for sustainable materials
Eco-friendly materials are arguably the best choice you could make when designing interiors. Apart from being more sustainable and leaving a lower carbon footprint, organic materials are also quite a simple solution for making your interior appear that much more natural. So, whether you are upgrading the flooring, choosing wall coverings, or even selecting new furniture, it's always best to go for natural materials such as bamboo, cork, and reclaimed or FSC-certified wood. Similarly, untreated bricks and stones could be wonderful natural highlights in your interior, while smaller aspects such as seagrass and shells might present the perfect decor solutions.
Introduce natural rugs
Rugs are among the most popular accessories to include in any interior, and for a good reason. Not only can they effortlessly add some necessary softness, warmth, and texture to any space, but they could also help to section off a room, and make it appear more structured and purposefully designed. But as with any other aspect, you should also opt for more organic choices when selecting the right rug for your space. For that reason, it might be best to choose rugs from NZ made from wonderful materials like hemp, jute, and wool that come in neutral colors and simple designs that are bound to beautify any interior and make it appear more organic.
Choose eco-friendly accessories
When you're decorating with natural elements, even the smaller aspects of your interior should feel more organic and nature-inspired, in order to achieve a more coherent design. So, apart from selecting sustainable furniture, make sure that your accessories are green and eco-friendly as well. This could mean selecting fabrics like organic cotton, hemp, bamboo, or wool when choosing decorative pillows and throws, or even opting for rattan, stone, or recycled materials for smaller, decorative aspects of your interior. Keep in mind that even though they can't exactly be found in nature, even minimalist materials like glass and ceramics can help to make a space look more natural and organic.
Bring in some natural light
Natural lighting is truly the best way to bring more elements of the outdoors inside, helping to brighten up our interiors, improve our mood, and truly make the entire space come to life. In case you have the opportunity to bring natural light into your interior, try to embrace it by removing any window covers or even installing new windows and glass doors, if possible. If you don't have that option, however, there are some other tricks you could use. For instance, hanging several larger mirrors in your interior can help to bounce off the natural light that comes in, allowing you to create a more spacious and organic environment.
Focus on wonderful greenery
In an effort to infuse your interior with nature as much as possible, and make your space appear more lively, there's truly nothing better than beautiful greenery. While flower arrangements might be able to create a lovely focal point, potted plants are ideal for adding texture and visual interest to a room, while also bringing some fresh air inside. Whether you opt for smaller succulents, larger houseplants, or even wonderful potted flowers, greenery can effortlessly make your interior feel fresh and more wellness-inspired by giving it that much-needed organic appeal.
Final Thoughts on Interior Design Inspired by Nature
Evidently, natural elements are the perfect option when designing a healthy, organic interior that promotes sustainability and well-being. And hopefully, the incredible tips mentioned above will allow you to create a natural, lively, and inviting space as well.
---
About the author: Lilly Miller is a freelance writer, who focuses on interior design, well-being and sustainable living. She loves to experiment on daring new home decor trends and write about it as a regular contributor to Smooth Decorator. Settled in Sydney for the time being, Lilly shares home with two loving dogs and a gecko named Rodney. You can find her hanging out on Twitter.