Climate change and global warming are issues that define our times. Environments and weather systems the world over are being altered, threatened and destroyed. It is incumbent upon all of us to alter our lifestyles to address this threat, and it is the responsibility of every government to do everything they can to reverse this trend, in spite of the temporary but necessary cost to quality of life.
But this begs a question: Should governments of poorer nations be permitted to take a more balanced approach, considering the needs of their struggling populations to a higher degree than governments of wealthier countries, whose citizens might be better able to deal with these changes? In short, to what degree should we consider economic development while addressing the climate crisis.
---
By Sarah Nicholas
I was at my first Fridays for Future protest in Mumbai. The environment was enthusiastic. People were chanting slogans with passion, holding placards with witty and desperate pleas urging the government to take action. Finally, finally I was among a group of people who felt exactly the same way I did about the planet. Finally there were people who understood the magnitude of this situation.
As I was walking back home, filled with drive, a boy came up to me and asked me to buy one of the roses that he was selling. He was dressed in torn clothes and was clearly having a difficult time. Yet he smiled at me, telling me that he wanted to buy food with the money I would give. I bought the rose but, as I was walking out, I was filled with despair. What does this boy care about climate change? What does he care about the plastic pollution in the ocean? He is struggling to eat one meal a day, and he is not alone. There are millions of people like him in this world.
This thought has crossed my mind many times as I watch impassioned documentaries on conservation; yet, as I step out of my house, I see people struggling just to make ends meet. If I, a privileged member of society, am having such a difficult time managing finances and trying to be sustainable, how can we expect people from underprivileged backgrounds to be on this spectrum?
India's predicament: quality of life vs. ecological considerations
For decades, India was at the top spot of a title no country wants, 'The country with the most number of poor people in the world'. Only recently did Nigeria take over the title. However, officially, India still has 70.6 million people living under the poverty line (World Poverty Clock, 2018). It means that millions of people in India are living on less than 175 Indian rupees (2.40 USD; a rupee is roughly equivalent to 0.014 US Dollars) a day and are struggling to obtain basic necessities such as food, clothing and shelter.
When a country is struggling to provide just the basics to their residents, it is no nail-biting guess, in this battle between conservation and economic development, who takes the first seat. The governments want to increase their GDP, improve health and sanitation, provide education and jobs, increase investment, improve infrastructure, provide electricity to people; besides the economy and jobs, most of these things are not even an issue in developed countries anymore.
Take the Indian Government's Budget for 2020; they proposed 103 trillion INR (23.7 billion USD) to improve transport infrastructure and an even higher amount to revive the agricultural sector. How much is to be invested for climate change? A mere ₹4400 crores* (5.6 million USD); but can you blame them?
* ₹1 = 1 Indian rupee. 1 crore = 10 million in the Indian numbering system.
That is not to say India is lagging behind in renewable energy. As a pleasant surprise, India has emerged as one of the fastest growing markets for solar energy. The government has been very ambitious in its targets and wants to nearly double its share of renewable power to 40% by 2030. Power generation is a critical need for this energy guzzling country. Moreover, India is amongst the top five consumers of coal and two-thirds of it is burned only for electricity generation. That is a lot of CO2.
Scientists have warned us that the world needs to work towards completely reducing our dependence on fossil fuels and produce zero emissions by 2050. However, economic surveys have warned India against abruptly halting coal-based utilities and switching to solar, citing risks to its banking sector and the stability of the electricity grid. Sadly, the Indian government has obliged and wants to keep coal as the major medium for producing energy in the coming decades.
The effects on India's islands
The Andaman and Nicobar Islands form an Indian archipelago in the Bay of Bengal. This group of stunning islands was at the forefront of the Tsunami destruction in 2004. People lost their homes, jobs and loved ones. Their socio-economic lives were heavily impacted.
In 2018, the policy think tank of the Indian government, NITI Aayog, announced a massive 'holistic development' plan for the islands. It is an extensive plan to promote tourism and offer facilities for export. The focus was said to be on the creation of jobs through the same. The plan involves building airports, ferry services and desalination plants, as well as 220 luxury resorts, 70 luxury tents for camping activities and 50 tents in all 26 islands identified for the project.
Yet, conservationists of the region like Pankaj Sekhsaria have said that 'the proposed development model has not been developed in consultation with local communities or administration and has no clear and direct tangible benefits for the locals.' He says it 'disregards the socio-cultural, geological and ecological context of the region'. Take the example of Aves Island, a virgin island with a coastline of just two kilometers.
The government has proposed the builders to build 50 four-star resort rooms by investing ₹ 36 crores (5 million USD) on a land area of merely 2.75 hectares. The bidders expressed their concern, saying it would put too much pressure on the land, and further that the waste generated by that number of people would harm the ecology of this already vulnerable ecosystem. To this, the government responded by saying that the provisions would not be changed. This makes one question the 'holistic' aspect in this entire development model.
The problem in microcosm: Progress in Mumbai
On another coast of India; lies its financial capital, Mumbai. Also called the City of Dreams, Mumbai is home to 12.8 million people from all over the country. Always bustling with movement, it is no surprise that Mumbai is one of the top five cities in the world with regards to choking traffic. The government has been desperately exploring mass rapid transport systems but they all seem to come at a grave environmental cost.
The government proposed the Mumbai Coastal Road Project, which is projected to cost 12000 crores (1.7 billion USD) and would stretch over 35.6 kms along the coast, connecting the entire western coast of Mumbai. However, citizens' groups and environmentalists have raised concerns that reclaiming the land along the coast will destroy the region's unique ecology and the livelihoods of traditional communities who depend on the intertidal zone for fishing. It is on halt as of now but the government continues to push hard for it.
The government also planned to fell 2,185 trees within Mumbai, in Aarey Colony, to make way for a new metro rail project. Aarey is a densely forested area spanning 1,280 hectares; it is often described as the lungs of the city. Besides being a hub for biodiversity, it is also home to forest-dwelling tribal communities who would be evicted from their homes and their way of life.
This leaves us with one question, who is this development for, if it is harming the very people it is supposed to help? There is no black and white answer to this debate between conservation and economic development. Maybe the question is how we define development. Is the progress of a country only limited to the number of high-rises, industries and technology?
A small kingdom in Asia seems to be offering an alternative
At a time when citizens are desperately asking their governments to take action, there is one country that is already carbon negative; it is the land of the Thunder Dragon, Bhutan. A monarchical democracy, Bhutan's government has pledged to protect, conserve and improve its pristine environment and safeguard the country's biodiversity. When the Prince, Jigme Namgyel Wangchuck, was born in 2016, the King, Jigme Khesar Namgyel Wangchuck, ordered 100,000 trees to be planted in honour of his son's birth.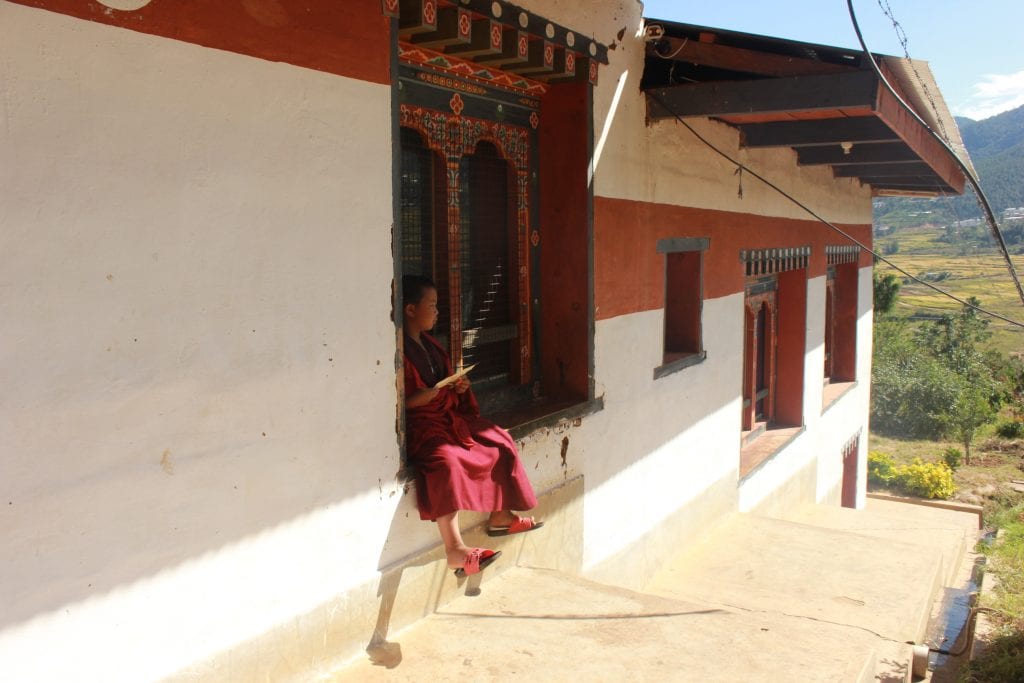 Another heartwarming fact about Bhutan is that the country doesn't measure prosperity through their GDP, they measure it through a unique index called Gross National Happiness; where they put the spiritual, physical, social and environmental health of its citizens and natural environment before material growth. The government provides free education and healthcare to anyone who resides in the country.
It sounds like utopia, doesn't it? However, the younger generation seems to be getting restless. 26-year-old engineer, Tsewang Norbu, thinks that Bhutan is living in a bubble and the country needs to take economic development seriously. He feels the country needs development, more industries and jobs so that the country can better implement their socialistic values. He has reason to believe so. The unemployment rate of Bhutan has risen in the past 3 years to 13.6% from 10% and, in 2016, the kingdom was on the UN's list of 'least developed countries'.
Change must be global, immediate, and swift
We live in a capitalistic society where money seems critical to everything, be it education, healthcare, survival. However, with the Australian fires, Amazon destruction, flooding in Indonesia and cloudbursts, nature has shown us how shortsighted we have been. Contrary to how we have been living, nature's resources are not infinite. 
Furthermore, climate change will only make the problems of economic development worse: the underprivileged will be hit the hardest with the consequences of climate change. and the wealth gap will only increase further. Recent developments all over the world have proven that the cost of inaction will be much more expensive than the cost of acting now.
And yet the question lingers: Does economic development have to mean destruction of nature? Does it have to be one or the other? We're living at a critical time and we cannot afford to look at this problem with blinders on; we need to open up our view. We need to understand what the world is facing and accept that we're not separate from it. We cannot be one-dimensional in our approach either to conservation or to economic development.
They need to go hand in hand. Plans like the Green New Deal give us hope that it is possible. We need a truly holistic approach. Invest in agriculture, yes, but in a way that the government empowers the farming communities to build their resilience and adapt to changing climates without further depleting the precious natural resources but rather enhancing it. Invest in tourism, yes, but; not at the cost of the very landscape itself. That would be like taking an axe to your own foot.
We need to develop a model that helps people to generate income without widening their carbon footprint or placing further pressure on the land. That is where models like ecotourism and homestays come in. Invest in training locals to host guests in their homes, see their culture, experience their lives, and travel responsibly.
Invest in infrastructure, yes, in green architecture and self-sufficient houses; parks that absorb rainwater and elevate groundwater levels but also make the surrounding area less prone to flooding, and vertical gardens and urban jungles along the roads to curb pollution.
It is 2020, yet our definition of economic development is as old as the Industrial Revolution. Maybe we need to redefine development and adapt it to the changing times and needs of the current millennium