Best Sustainable Travel Guide for Eco-Conscious Travelers to California
If you are traveling to California and prefer to leave as little print as you can, then you are not alone. Did you know, you're one of the 87% of travelers who prefer sustainable traveling? Well, congratulations on taking a huge step that benefits nature.
California is a big state with a lot to offer to tourists. However, you can feel it difficult to decide where to start if you're looking to travel sustainably. Everything might feel challenging, from deciding on transportation, staying, what to eat, and what to do.
But don't worry! This guide highlights the importance & tips of eco-conscious travel and some of the state's best eco-friendly options. So we've got you covered if you're looking for a sustainable getaway or want to be more conscientious about your travel choices.
The Importance of Sustainable Tourism
Sustainable tourism is important for a few reasons. For starters, it helps to preserve the natural environment and the cultures of the places we visit. It also supports the local communities which can create a positive ripple effect.
But most importantly, sustainable tourism is about enjoying the world and its amazing cultures while being mindful of our impact.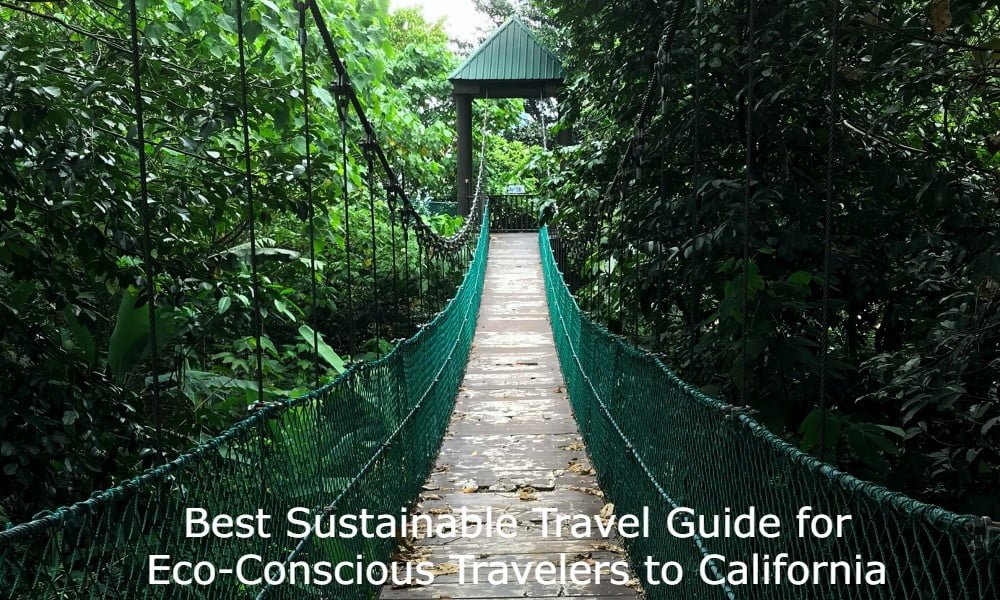 The Best Sustainable Travel Destinations in California
When it comes to eco-friendly travel, California is a goldmine. With its towering redwoods, pristine coastline, and jaw-dropping mountain ranges, the state has something for everyone.
But how do you choose the right sustainable travel destination in California? It can be challenging, but we're here to help. Here are some of our favorite eco-friendly destinations in CA!
Visit the Regenerative Farms or Ranch in California
If you'd like to learn about regenerative farming and ranching, visit the Regenerative Farms or Ranches in California. These farms and ranches offer tours of their operations so that visitors can learn how to grow food in a sustainable way.
The regenerative farms also have educational programs for children interested in agriculture. They also organize workshops for adults who want to learn more about farm animal husbandry practices.
An Eco-Conscious Getaway in the Channel Islands
The Channel Islands CA are the best option if you're looking for a relaxing and educational day.
Here are noteworthy places in the Channel Islands you can explore during your eco-conscious travel:
Santa Barbara Island
San Miguel Island
Santa Monica Beach
Santa Barbara Island is home to the Channel Islands National Park, and its Lighthouse, which is open from 9 am-5 pm. It also has an observation deck where visitors can see whales breaching in their natural habitat and other marine wildlife.
The San Miguel Island Research Center provides information on all aspects of this unique ecosystem. You get to learn about the endangered species that live there today and past events such as volcanic eruptions that reshaped these islands over time. You might even see sea lions swimming around this island.
To finish off your trip back eastward towards Santa Monica Beach, where many tourists flock every summer weekend thanks again to its warm climate year-round.
Spend Time in the National Parks of California
The best way to take in the beauty of California's nature is to visit one of its national parks. Parks are the best place to escape crowds and indulge more in nature.
The state has plenty of local parks as well. These parks are great places to spend the day hiking on a trail. Visit during April or May if you want to see wildflowers in bloom. Many of them offer free or have free admission days.
They also offer educational and fun programs to help you learn more about nature and the environment. The parks have many amazing attractions within each park that can be explored by foot or car.
The following are two famous national parks to check out in California:
Yosemite National Park – Yosemite is known for its beautiful scenery and many waterfalls. You can hike through the most famous trails in this area, such as Half Dome and El Capitan.
Joshua Tree National Park – This park is a desert oasis. Its environment makes it easy to feel isolated from civilization. With plenty of hiking and camping opportunities, explore beautiful landscapes like Salt Creek Canyon, Cathedral Rock, and the iconic Joshua trees.
Monterey Bay Aquarium
Monterey Bay Aquarium is another great place to get up close and personal with some of California's native wildlife, like jellyfish and sea otters. This aquarium cares deeply about marine conservation, so it is a great place for an educational trip with kids and adults alike.
The facility has exhibits that keep your eyes busy as you learn about diverse ecosystems. The aquarium has nearly 200 marine exhibits, and it's perfect for exploring nature at its finest while keeping your travelog sustainable and eco-friendly.
Bike Ride in Sonoma County's Wine Country
If you're looking for a day trip that will leave you feeling more eco-conscious than ever, consider biking through Sonoma County's wine country. You can reach the wine country by renting a bike or taking public transportation. It's just an hour's drive from San Francisco and worth every minute of the trip.
This place has some of the best rustic hiking trails on earth, with beautiful vistas and stunning flora everywhere you look. You might also find someone else who knows what they're doing in regard to nature photography.
Tips for Sustainable and Eco-Conscious Travel
California is home to some amazing eco-friendly travel destinations to travel sustainably and support eco-friendly initiatives. The following are a few tips to be a sustainable and eco-conscious traveler:
Consider your transportation options. Choose a mode of transportation that doesn't damage the environment, like biking or taking public transportation.
Bring your reusable water bottle and snacks. This will help reduce waste and keep you hydrated on the go.
Choose accommodations that are environmentally friendly. Look for hotels or resorts with green initiatives, like recycling and energy conservation programs.
Educate yourself on the local culture and customs before you go. This will help you avoid inadvertently offending anyone or damaging any cultural artifacts.
Be mindful of your energy use. Be sure to turn off the lights and electronics when not in use, and conserve water whenever possible.
Conclusion
We've put together the best sustainable travel guide to help you explore the state of California in the most sustainable way possible. From environment-friendly destinations to tips on great ideas for sustainable fun, we've got you covered. So what are you waiting for? Start planning your sustainable California getaway today!